My latest knitting project has been a sweet little pair of Swiss-inspired wool slippers.  It was my first time using circular needles, which weren't very difficult in comparison to straight needles, and it was also my first time felting.  Felting essentially means that you knit something out of 100% wool, stick it in your washing machine on the hottest setting, allow it to be agitated in the water, and 15-30 minutes later your project has become fuzzy, stiffer, and you can no longer see your stitches!  It's a nice technique because it covers up any small mistakes you may have made in your knitting.
For these adorable slippers, I used Lion Brand Fishermen's Wool in Nature's Brown for the sole, and Brown Heather for the foot.  It is perfect for felting as it is pure, virgin wool and contains natural lanolin oil.  I've also seen tips online about using fabric glue or puff paint to spot the bottom and give the slippers some grip.  I am definitely going to do that!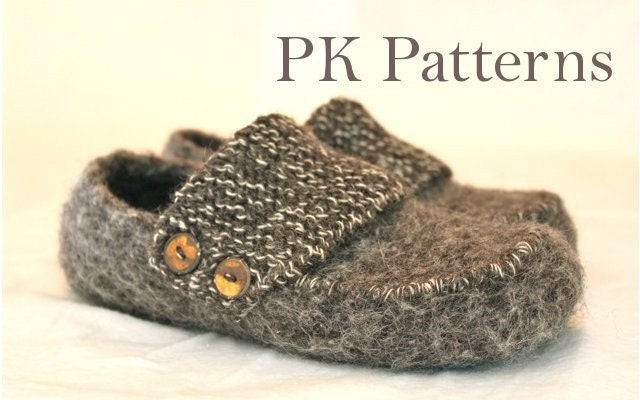 For you knitters, the pattern can be found HERE at the picknknit shop on Etsy, or at Ravelry.com under the name Lady Finkaas.  As this pattern is copyrighted, I am NOT able to reproduce it here for you.  But let me assure you, this is a wonderful pattern!  It comes with very clear instructions that even a novice knitter can follow.  It contains pictures for each step, and provides alternate dimensions for shoe sizes 6, 7, 8 and 9.  I made mine using the size 7 measurements and they turned out great!