My co-worker, Ryan, made some delicious chocolate chip cookies today, and let me tell you… these were good.  I mean crispy-chewy-buttery-chocolatey-would make your grandmother blush good!  Of course, America's Test Kitchen has once again bestowed upon us a perfect recipe with which you can impress your friends, family, and if you're really smart– your mother-in-law.  They are, as its creators describe them: "moist and chewy on the inside and crisp at the edges, with deep notes of toffee and butterscotch to balance its sweetness."
Wrap these in a cute gift bag as a hostess gift, surprise your significant other, or invite a few gal-pals over for chick-flicks, wine and cookies! Just boast to everyone that it's your own secret recipe.  I promise I won't tell…
View the Recipe HERE, or see below, and be sure to follow the tips given by its writers (such as using fresh brown sugar), as the chefs at America's Test Kitchen really know what they're talking about.
Perfect Chocolate Chip Cookies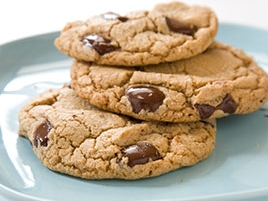 Makes 16 cookies. (Ryan was able to make 20 good-sized cookies)
Avoid using a nonstick skillet to brown the butter; the dark color of the nonstick coating makes it difficult to gauge when the butter is browned. Use fresh, moist brown sugar instead of hardened brown sugar, which will make the cookies dry. This recipe works with light brown sugar, but the cookies will be less full-flavored.